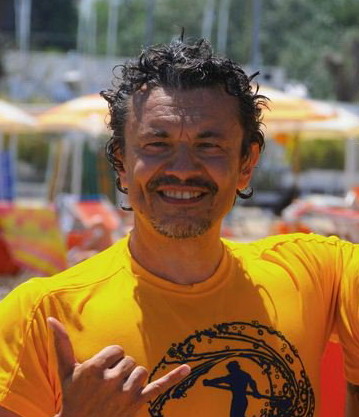 FRANCO SUP 4 COACH
When you go to this center and say: "I found you on BlueDreaming" you will be given a nice..."solar "gadget!
Franco Piccioni è un formatore di Istruttori di SUP per le qualifiche di acqua piatta e surfing.
La sua esperienza decennale nel campo dell'insegnamento ai Coach lo ha portato, nell'arco dell'ultimo decennio, a formare oltre 100 Istruttori, e sviluppando un monte ore di tirocinio degli allievi di oltre, 1.200 ore.
I corsi vengono fatti prevalentemente a Riccione ma spesso anche in Toscana e sul Lago di Garda.
Brevetti conseguiti:
Brev. ASSISTENTE BAGNANTI Salvataggio MIP Brev. N° FIN-145118
Brev. MOTO D'ACQUA CSM Conduttore Soccorritore N° FIN-192966
Brev. Giudice Internazionale I.S.A. SURF/SUP Level 1
Brev. Istruttore I.S.A. SURF + SUP
Brev. Apnea CMAS Brev. N° 06 000689
Brev. SUB CMAS Brev. N° 07 000985
PAT. NAUTICA N° AA 090312 1143 – Motor. Ravenna
Location
Experiences
There are no scheduled experiences